Cups and Balls
Cups and Balls Magic Reviews

Guest Reviewer Bruce Smith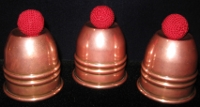 Place your mouse on the above picture for a close up view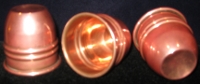 Product: Paul Fox Danny Dew Type 2 Copper Cups
Maker: Purchased used from the Zimmerman Family
Overview:





5/5
(Historical cool factor 10 out of 10!)
Review
What's Included?:
Shipped as Cups only
Delivery Time / Packaging:
The PF DD 2 Cups arrived rather quickly, less than a week sent registered US Mail. The Cups were securely wrapped in tissue paper and bubble wrap nestled in news paper.
Construction / Durability:
(In all photos the PF DD 2 Cups are the shinier Cups of the two):
It is hard for me to make comment as to the construction and durability of the Paul Fox Danny Dew Type 2 Cups; it seems that I am rather biased. To me how could these not be a well constructed and durable Cup… to be so desired and to still be around after all these years?
Let me explain…
I am by no means a Cup expert, so I won't be going into a full history of the Paul Fox Cups; I figure if you are reading this review, more than likely you as the reader already are aware of the Paul Fox Cup story. Thankfully we all have Bill Palmer who kindly answers pretty much all questions pertaining to Cups. Checking with Bill, it is his opinion that my set of PF DD 2 Cups was more than likely spun in the mid to late 1960's by Pedigree, which was one of the two main spinners Danny Dew used to make the Paul Fox Cups. Bill based this on the shape and weight of the Cups, my set comes in at just a hair over 4 oz, about 4.3 oz each (the latter PF DD 2 cups were heavier towards the end of their run).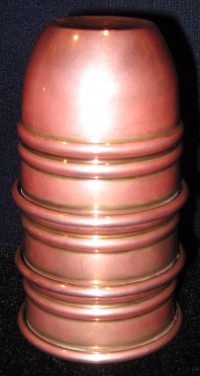 This set of PF DD 2 Cups are in particularly great shape, no dings, scrapes or disease, much better than I thought that I would ever find a set in… that I could afford. These were part of Jake's collection and at one time he had over 30 Paul Fox Cups. Why so many Cups do you ask… he had to acquire so many to assemble matching sets to his liking; possibly the Cups were not sent out with as much love as better Cups are sent out today. This set matches perfectly, shape, mouth beads, wear and tear and they nest perfectly. They arrived tarnished, but not with a patina we would call desirable. I gave them a light polishing and can tell that they originally had a mirror finish, since then I have been handling them day and night to get them to turn as I want.
It is interesting comparing the PF DD 2 Cups to the more resent RNT2 (Jake era) PF Cups; if you do a search at TMC (Big Green) you can sift through the 52 pages referencing Paul Fox Cups and find those threads describing how the RNT2 Cups came to be and what slight modifications and refinements RNT 2 made to create the best replica of the Paul Fox Cups available today.
To my eyes and touch, I find the following differences between the PF DD 2 and the RNT2 PF Cups; Many of these differences were not so obvious until I had the two Cups to look at side by side (slight as they may be).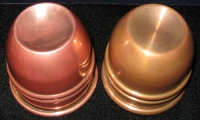 1-The curvature of the PF DD2 as it goes from the shoulder bead to the saddle seems to be more severe than the RNT2 PF Cup (slight but there). Again thanks to Bill Palmer's pictures at TC&BM, there are plenty of photos to compare to.
2-The edge on the saddle of the PF DD2 Cups is spun sharper that what can be felt on the RNT2 PF Cup. I zero in on this because the Johnson Products Gold Cups have this same feel that my thumb always goes to. This edge to the shoulder seems to assist in turning over the Cup with a wand compared to other Cups.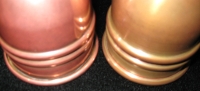 3-The mouth bead of the PF DD2 Cup is not turned as closely toward the Cup's shoulder compared to the RNT2 PF Cup. Overall the RNT2 PF Cups seem to be more precise as to how they are spun.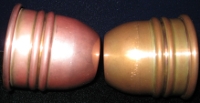 4-The PF DD 2 Cups weigh in at approximately 4.3 oz each compared to the RNT2 PF Cups at 4.75 oz each. I have no way of measuring this, but I believe the PF DD 2 cups are spun of 18 gauge .040 thick copper and the RNT2 Cups are spun from 16 gauge.050 thick copper (remember I stated above slight as they be).
Suitability:
Speaking as a complete amateur (or a dining room table hack, as another has called me), the Paul Fox Danny Dew Type 2 Cups are just marvelous to use. They feel very similar to the RNT2 PF Cups and my beloved RNT2 Squatty Cups… melting into my hand and becoming an extension of my appendages (how's that for a flowery description?).
Seriously the shape and feel of the PF DD 2 Cups are a joy to use, no wonder there have been so many variations and copies of the its design.
Overall:
In the scheme of things, probably hundreds of the PF DD 2 Cups were produced throughout the 1960's and early 1970's. I started out in magic at a time when there were still new sets of Paul Fox cups to be had for $30 bucks or so. Oh if only what I knew then is what I know now… I could have purchased many sets of Paul Fox Cups from the money spent on Svengali Decks, Nickels to Dimes and other stuff (I am sure that you all know what I mean).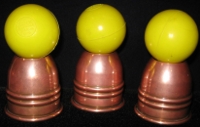 If you can't tell already from what I written so far and from a previous review of the RNT2 PF Cups, I really love these Cups. The dreamer in me sometimes wonders… whose hands have these Cups touched before mine… a famous magician, someone more skilled than I, Danny Dew… I will never know. But I do know that they once belonged to Jake Zimmerman and that makes them all the more special to me. Maybe I can channel the skills of their previous owners to become the next Cups "It" guy… one can dream can't they?
Not to sound glib; it did not matter to me what shape this set of Paul Fox Danny Dew Type 2 Cups arrived in, I was excited to own a piece of Cup history… even if they arrived in less than perfect condition, I probably would have given them a good review too (I told you I was biased).
Available from: N/A
Thanks Bruce!
Please remember - This site is a free resource so please pass on your thanks by mentioning us when you place an order for anything.
Thanks!